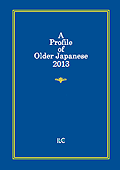 Japan is setting the pace among the aging societies of the world. People aged 65 and over now make up over one-fifth of the population and in twenty years will reach one-third. How are individual older people faring in this "longevity society?"
"A Profile of Older Japanese," prepared by the International Longevity Center-Japan (ILC-Japan), is a compilation of data from various ministries of the national government and other sources, along with brief interpretations.It is organized into eight sections: "The Aging Population and Aged Society,""Living Arrangements,""Housing","Health Status," "Family and Long-Term Care,""Economic Status," "The New-Old and Social Participation" and "International Comparison".
ILC-Japan hopes this information will be helpful in understanding the implications of population aging in Japan and in general.
This booklet has been published every once a year since 2009.
The population of Japan is aging rapidly. The proportion of working age people to Japan's entire population is also sharply declining. By 2050, it is expected that one in every three persons will be 65 years old or over. Japan has launched a variety of progressive programs including a universal long-term care insurance program, an extension of the mandatory retirement age and formed community based support groups for people with dementia. The for-profit sector has also taken the initiative by generating products and programs catering to seniors.
"From Japan Now" aims at disseminating information concerning aging in Japan to journalists, researchers, students, corporate executives, and policy makers. It focuses on the impact of population aging on ordinary Japanese which has not hitherto received significant attention in the mass media or scholarly publications outside Japan.